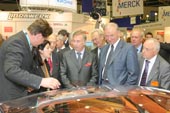 Within September 3-7, 2007, the show grounds of Pavilions 2 and 8 (Halls 2 and 3), Expocentre Fairgrounds, were engaged to support "Khimia-2007" – the 14th international exhibition of chemicals industry, the affair actually launching a sequence of events scheduled for the remainder of the year by Expocentre Fairgrounds. The Exhibition has been arranged by Expocentre together with ZAO "Roskhimneft", relevant backing and participation being provided by the Ministry of Industry and Energy of the Russian Federation, Moscow City Government and Russian Union of Chemicals Producers, with a good deal of patronage being graciously extended by the Chamber of Commerce and Industry of the Russian Federation.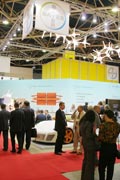 Notably, "Khimia", first held in 1965, appears to be one of the oldest Russian-based industry exhibitions. Attesting to the Exhibition's superior international standing have been its UFI (World Association of Exhibitors) and RUEF (Russian Union of Exhibitions and Fairs) awards.
"Khimia" steadily continues its expansion drive, with the affair's footprint hitting 11,000 square meters of usable space this year. The entire palette of chemicals products and related services were presented by more than 800 firms and organizations from 29 countries of the world.
Participants included the leading Russian and foreign chemicals, developers, manufacturers, suppliers, dealers, distributors and investors operating in the chemicals industry.
Major foreign exhibitors included Belneftekhim (Belarus), Borealis Polymers NV, Solvay SA (Belgium), Basf AG, Êanex Krohne Anlagen Export Gmbh, KSB AG, Lenz-Laborglas Gmbh & Co. Kg, Lewa Gmbh, Linn High Therm Gmbh, Lurgi Zimmer Gmbh, Rema Tip Top GmbH (Germany), Anhydro AS, Haldor Topsoe A/S (Denmark), Transpek Industry Limited (India), Kartell Spa (Italy), Akzo Nobel N.V., Landre Intechmij International B.V, Supresta Netherlands B.V. (Netherlands), Ciech S.A. (Poland), Dow Europe S.A. (Switzerland), Sigma-Aldrich, Thermo Fisher Scientific (USA), ZAO Promartura (Dnepropetrovsk, Ukraine), JV Khimimpex, OAO Chernigov Khimvolokno (Ukraine), A. Arvelin International OY, Erkomat OY, Oiltanking Sonmarin OY (Finland), Arkemà (France), Bohemia Crystalex Trading A.S. (Czech Republic), Ciba Specialty Chemicals (Switzerland), Perstorp Specialty Chemicals, AB (Sweden), Johoku Chemical Co., Ltd, Marubeni Corporation (Japan), just as other well-to-do companies and organizations.
National exhibit areas were maintained by German, Chinese, Finnish and French companies. Interestingly enough, China's presence has nearly grown twofold over the past few years. Clearly, these developments are indicative of the world's chemicals leaders getting increasingly interested in the Russian market for chemicals and pertinent services.
Apart from the big-foot international players, participants included a host of leading domestic companies dealing in the chemicals area.
To be more precise, attending "Khimia-2007" were more than 300 Russian manufacturers and traders, some of those including high-visibility chemicals providers and machine builders. A broad range of products were offered by OOO NPF "Baltiyskaya Manufaktura" (Saint Petersburg, Russia), VSMPO-Avisma Corporation, Verkhniaya Salda, OAO "Kazanorgsintez", OAO "Kuybishevazot" (Togliatti, Russia), "Nikokhim Group" (Moscow, Russia), OAO "Orgsintez" (Nizhny Novgorod), OAO "Pigment" (Tambov), OAO "Reatex" (Moscow), ZAO MHK "Regionkhimsnab) (Saint Petersburg), OAO "Soda", OOO "Festo-RF" (Moscow), OOO TD "Khimprom" (Kemerovo), not to mention many other successful firms and organizations.
Importantly, "Khimia-2007" covered any and all of the industry's dimensions and pursuits. Numerous display stands were maintained to carry: assorted raw materials and industrial suites developed to support disparate chemicals and petrochemicals tasks; organic and non-organic chemicals; agrochemicals and pesticides; oil refining and petrochemicals manufacturing technologies; fuels and lubricants; organic synthesis technologies; specialized chemicals; chemical fibers and threads; composite materials and reinforced plastics; materials, technologies and industrial lines to produce dyes, varnishes and inks; synthetic and industrial rubbers, functional applications and tires; domestic chemicals, perfumeries and cosmetics; chemical agents, catalysts, assorted films and recording tapes; micro-biology and bio-technology technologies and products; curative substances; design services to support construction of chemicals enterprises, warehousing facilities and terminals; assemblies and control panels to manage disparate chemicals industrial tasks; solutions to support chemicals/petrochemicals transportation and delivery jobs; containers and packaging applications for a host of chemicals-related purposes; new technologies and promising research pursuits; environmental security solutions; applications to tackle waste management and other tasks.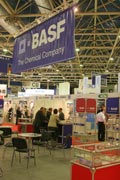 Importantly, the Exhibition featured the following specialized salons: «CHEM-PLAST-2007» (Synthetic Resins, Plastics and Polymers. Recycling Technologies) and «KHIM-LAB-ANALYT-2007» (Research and Laboratory Equipment. Furnishings, Utensils and Glassware).
Also, "Khimia-2007" was featuring the business support program "Moscow Week of Chemicals-2007" with relevant activities to be supported by Expocentre Fairgrounds conference facilities.
The 2nd international conference "Polymeric Applications for the XXIst Century" allowed the attendees to make knowledgeable assessments of the current focused research efforts, status of manufacturing technologies and deployment of new polymeric applications across the industries.
To add, the Exhibition's business support program included the following industry overview conferences: "Advanced Materials and Technologies to Make Anticorrosive Coatings", "Promotional and Marketing Challenges Faced by Chemicals Manufacturers" and "Dye and Varnish Fabrication Trends. Raw Materials and Manufacturing Technologies".
The Exhibition arrangers have drawn the results of the "Best Product Contest" attracting the attentions of both domestic and foreign manufacturers, research centers and financial-industrial groups attending the forum.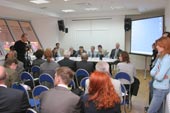 "Khimia-2007" was ushering in the "KHIMIA: EDUCATION AND CAREER-BUILDING" center where opportunities were provided for Russia's leading chemicals-related schools of higher learning (Mendeleev RHTU University, MGU University's Chemicals Department, MGUiE, Lomonosov MHTI University, Moscow Chemicals Engineering College) to offer their services and visions for the future. A sequence of dedicated round-tables were addressing the issues of educating and training managerial personnel for enterprises and companies dealing in the chemicals industry. Importantly, an effort was launched in the Exhibition days for young experts to defend their projects targeted for industrial deployment.
To underscore, the well-proven automated MatchMaking system was on hand to enable participants and visitors to peek into the list of registered entities, define the customer of choice, make an appointment with the party sought, fix arrangements and plans for business talks, just as budget the time available in the right fashion. This System could help to make an appointment at the indicated display stand or in the dedicated Business-Support Area.
What is more, "Khimia-2007" has provided an excellent pad for a broad range of executives, managers and experts to gain solid insights into the current state of play in the chemicals industry and get a clear idea about its growth capabilities and prospects.