Digest (news catalogue of the Khimia 2023 exhibition for 6-9.11.2023)
Most of the exhibitors note the increased activity of visitors: representatives from almost all regions of the country, as well as specialists from neighbouring countries, came to the exhibition. The second and third days of the exhibition were the most busy for the exhibitors. Exhibitors named the fact that most visitors came to the stands with specific requests as one of the peculiarities of this year's exhibition. Such targeted contacts are the most important indicator of the exhibition's efficiency. In today's review, representatives of Tecsa Group and Rokot plant share their impressions.
A wide range of laboratory equipment for solving complex technological problems
Tecsa, a supplier of process and laboratory equipment, consumables and raw materials for chemical industry enterprises, presented a wide range of laboratory equipment at its stand.
Over 25 years of operation, the company has supplied more than 10,000 units of process equipment and implemented more than 20 turnkey projects. Tecsa rightfully considers its main advantage to be the experience gained over many years in the effective solution of technological problems and optimisation of production processes.
The company manufactures industrial dissolvers, reactor equipment, heat exchangers, vessel equipment, mixers, vessel washing stations, pump and filter groups, liquid and bulk raw material dosing stations, and other equipment for the paint and coatings, pharmaceutical, chemical and cosmetic industries at its NPO TecsaHimmash R&D plant in the Moscow region.
"We traditionally present laboratory equipment at the Khimia exhibition," said Ivan Gorbunov, Head of Sales Department. This year, after a short break, we returned to the exhibition and displayed new products: equipment for synthesis, film and packaging quality control, and general laboratory equipment. And, of course, our main assortment – equipment for the paint and coatings industry: dispersing equipment, climate chambers, colour measuring devices, and much more."
What objectives did you set for yourself when you decided to participate in the exhibition?
To find new partners, to meet clients from the chemical sector, to see the products of our colleagues. We have almost no direct competitors here, despite the fact that there are many companies presenting laboratory equipment at the exhibition, but each has its own unique niche, its own specialisation. That is why our stand is very busy all the days. On the first day, there were many visitors from Moscow and the Moscow region, on the following days representatives of almost all regions came. Specialists from food production, pharmaceutical companies, and companies involved in chemical synthesis.
How do you assess the results of 2023 and what are your plans for the future?
We are seeing increased activity from both our suppliers and customers. The factories we work with are steadily growing in volume. We are not stopping either; next year we are planning to meet with our partners at the sites of Chinese factories. We will be looking for alternatives to the devices whose manufacturers have stopped working with us. There is also the task of upgrading the laboratory, searching for integrated solutions.
Conveyor systems at the Rokot plant reduce energy costs and increase economic benefits
The Rokot plant is taking part in the Khimia exhibition for the second time with the support of the My Business Export Centre of the Kursk Region. The plant produces all types of tubular scraper conveyors and is the only Russian manufacturer of aeromechanical conveyors. Natalia Kubikova, the plant's director, told us more about the plant's products and the first results of the exhibition.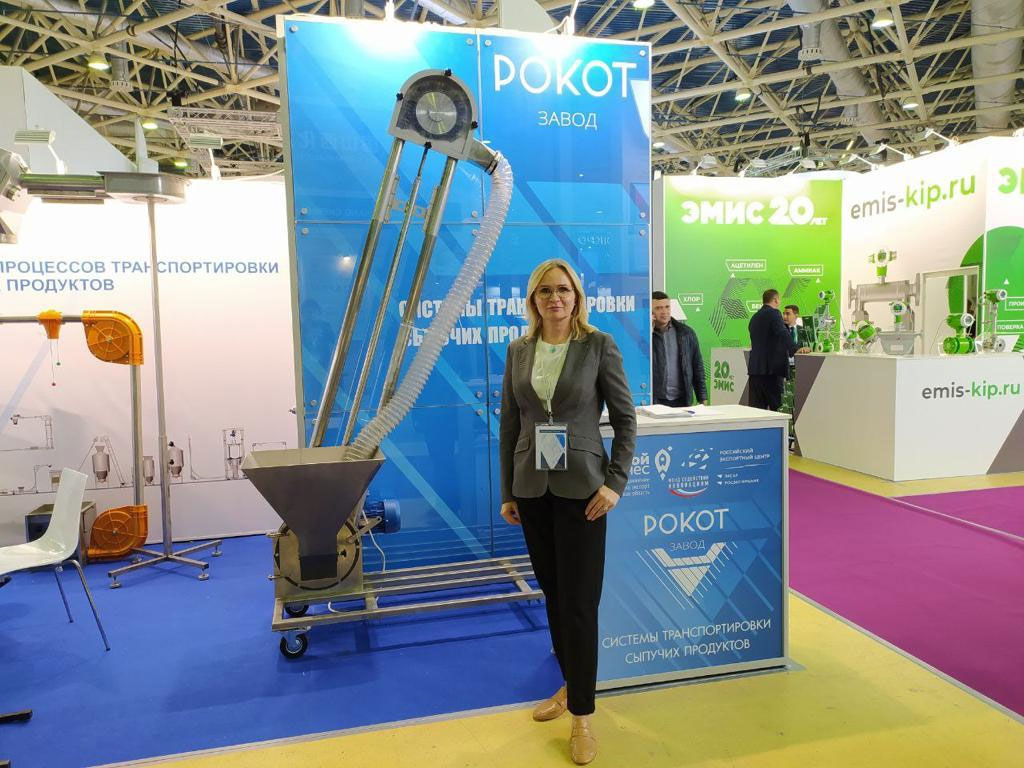 Photo: T. Oskerko
Natalya Vladimirovna, tell us how long has the plant existed? Why was it decided to organise such production?
Today, we are practically the only company in Russia that produces aeromechanical conveyors and one of the few companies that produce tubular systems that are used for any bulk products. Our plant, as an independent enterprise, has been operating since 2015, and before that it was part of a large defence holding. We started to develop the conveyor direction and today we produce efficient system solutions, starting from product debagging both from bags and big-bags, and further transport to the technological process.
Our products are of interest to all industries that use dry bulk solids. This can be chemical, pharmacological, food industries.
What does the implementation of your technological solutions bring to enterprises?
First, this is an excellent economic effect. The implementation of our solutions significantly reduces energy costs, as these systems run on practically one engine. It is also an effective solution in terms of labour protection. It's no secret that even in some large companies, workers have to manually lift bags of raw materials. Our conveyor systems make this process much easier; we jokingly call some of our conveyors "a replacement for Diclofenac". Another important point is the environmental friendliness of our systems, which allow us to move the loading unit into a separate room. Conveyor systems are completely enclosed, they exclude dust and waste. This is important for many chemical production facilities.
How do you assess the preliminary results of the exhibition?
This is the second year we have participated in the Khimia exhibition, and before that we took part in agricultural exhibitions. There we saw a great interest in our products on the part of chemical industries, whose representatives came to our stand. We were approached by customers who could not receive the equipment they had ordered from Europe. We decided to go to the Khimia exhibition, but last year we had a small stand without equipment, and now we decided to show live how our systems work and how we can help the enterprise with transportation. This year's exhibition was very busy, we had a lot of visitors at our stand, the four of us didn't sit down even once. There were almost all regions, so there is a lot of work to be done! And we are happy about it.
---