Digest (news catalogue of Khimia 2023 exhibition for the period from 31.10-01.11.2023)
Innovative developments at the stands of Russian manufacturers
The first day of the Khimia 2023 exhibition showed that chemical industry products are widely demanded in all spheres of the national economy and play an important role in its development. Almost 500 companies from India, Iran, Kazakhstan, China, UAE, Belarus, Russia, Turkiye, and Uzbekistan are presenting their innovative products today. Every year new and interesting participants come to the exhibition. Today we are presenting two companies, two Russian manufacturers who have recently joined the list of exhibitors: Elmon PP and Innoformula.
Complete control over aggressive media
Elmon PP, a modern fast-growing company specialising in the production of chemical pipeline shut-off valves, is taking part in the Khimia exhibition for the second time and presenting its own developments, which make it possible to solve non-standard tasks for many operating organisations.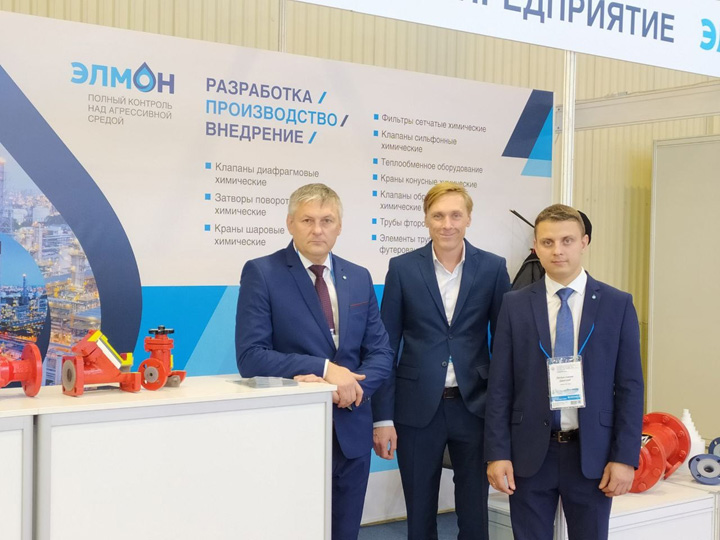 Photo by N. Vladina
Diaphragm valves VDH, disc gate valves ZPH, ball valves KShH, cone valves KFK, check valves KOH occupy a central place in the company's assortment.
"At the exhibition, we are presenting pipeline shut-off valves lined with fluoroplastic," said Sergey Dvoryanchikov, Commercial Director at Elmon PP. "It is suitable for heavy chemistry: acids and alkalis. It is used in the production of sulphuric, hydrochloric, nitric acids, where ordinary stainless steel cannot be used. For such production facilities we offer a complete solution: pipelines, pipeline components and shut-off valves, i.e. everything that transports these substances. We are ready to offer unique products: valves made of steel for use in various aggressive environments.
"Today, when many European companies have left the market, our products are increasingly in demand. We have the opportunity to replace imported goods on the domestic market. We are now competing with China, and here we have an advantage: the production is on Russian territory, and at any moment, we can supply products promptly. We do not depend on either the dollar exchange rate or price fluctuations.
"This is the second time we have participated in the Khimia exhibition, because this is where our key audience gathers. Many technologists come here with their problems, and here they find solutions. Already on the first day of the exhibition we had at our stand, it seems, all regions of Russia, as well as colleagues from Kazakhstan. Our company's clients include large holdings: Gazprom, Sibur, Rosneft, Polymetal, Russian Copper Company, and RUSAL. But we are ready to co-operate with small enterprises as well. We look forward to seeing all professionals at our stand!"
Innovations in the field of pipe systems
Innoformula has been operating on the Russian market since 2012 and today is one of the leaders in the segment of plastic adhesive pipe systems. The company's own production facility is located in Stupino near Moscow and its warehouse is in Lyubertsy. The company brought new products under its own brand to the Khimia 2023 exhibition.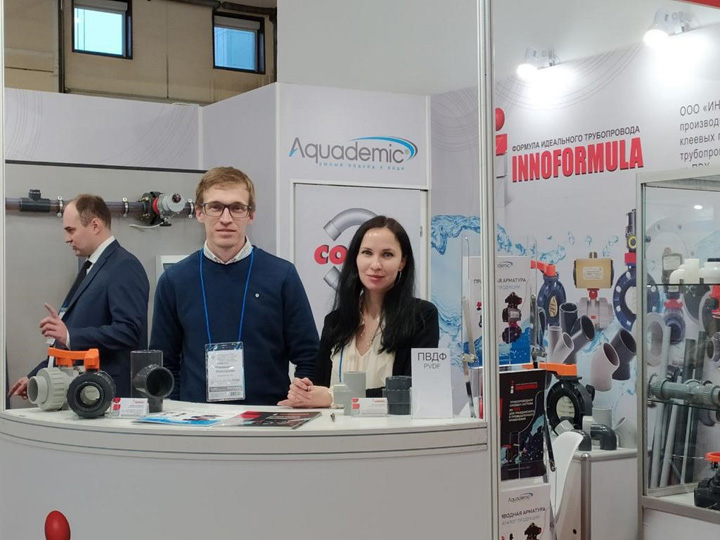 Photo by T.Oskerko
"The basis of our assortment is PVC and CPVC pipelines," said marketing manager Elvira Yulaeva. "We produce pipes and pipe components. We import shut-off valves from Italy and are an exclusive distributor of Comer.
"As far as sales are concerned, we are primarily focused on chemical production. Our products are also actively used in metallurgy, oil and gas, mining and agro-industry. And our pipes are also essential for the construction of swimming pools and aqua parks. Our products have a very wide range of applications.
"We are presenting a new product at the Khimia exhibition: for the first time we have launched electric and pneumatic actuators for cranes under our own Aquademic brand. In addition, just this month we have launched an adhesive for gluing pipelines under our Aquademic brand. Due to the fact that many foreign competitors have left the market, we decided to produce this essential product under our own brand.
"The year 2023 is one of the most successful years for our company. The Industrial Development Fund gave us a grant as an innovative import-substituting production facility. The country has appreciated us, and it is very pleasant! We used this grant to purchase equipment with which we produce the only CPVC pipes in Russia.
"This is the first time we are taking part in the Khimia exhibition. Here we want to make a name for ourselves as a reliable supplier of products for chemical companies. We consider our pipework to be ideal for the chemical industry, so we hope to find many new customers."
---