Visitor registration to Khimia 2023 is now open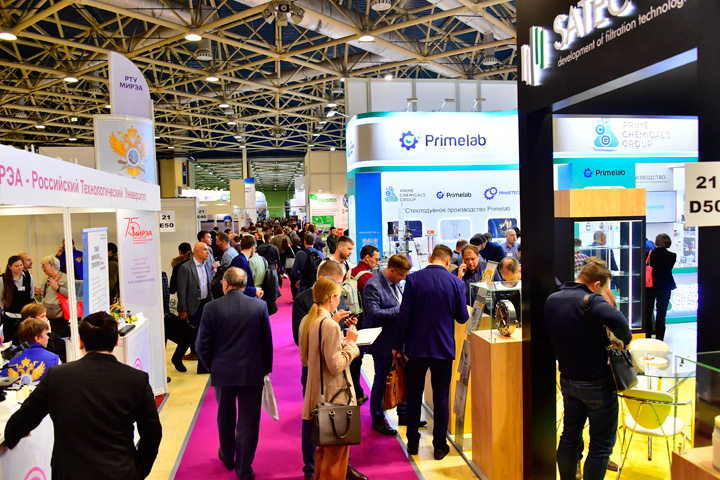 Online registration to the 26th edition of the International Exhibition for the Chemical Industry and Science – Khimia 2023 – to be held at EXPOCENTRE Fairgrounds on 30 October to 2 November is available now on the show's website.
The most important trade show and congress for the chemical industry will once again bring together leading companies, industry research centres and universities, innovative start-ups and small enterprises. They will demonstrate advanced technologies, new engineering solutions, raw materials and equipment.
This year's display will cover all areas of chemical production. The product sectors are dedicated to raw materials for the chemical, petrochemical, food, medical and construction industries, agrochemistry, oil and gas chemistry, specialty and green chemistry, analytical, laboratory, industrial pumping and compressor equipment, polymer materials, R&D, automation and digitalisation of production.
Chemical synthesis products, fuels, reagents, catalysts, chemical fibres, composite materials and glass plastics will also be widely represented. Other important exhibits will include equipment for the transportation of chemical and petrochemical products and solutions for improving the environmental safety of chemical production facilities.
To date, more than 350 companies from different countries have confirmed their participation in Khimia 2023. Foreign participants include companies from Belarus, Brazil, China, India, Iran, Kazakhstan, Turkiye and Uzbekistan. The show will also feature national pavilions of Belarus, China (about 200 companies), India (about 20 companies) and Iran.
Russian regional group stands and pavilions already include Belgorod, Kaluga, Kirov, Kursk, Leningrad, Nizhny Novgorod, Smolensk, Tula, Voronezh, Yaroslavl oblasts and Stavropol krai.
Special attention will be paid to the topic of innovation and high-tech. The show regularly includes Startup ChemZone. Its participants are industry startups and small enterprises. Every year they get a unique opportunity to show their developments to a wide range of potential investors and major market players.
The central event of Khimia 2023 conference programme will be the 11th Moscow International Chemical Forum with the participation of representatives of the chemical industry, relevant ministries and associations.
Click here to register and get your e-ticket.
---