Join the chemical industry's premier event of the year and grow your business at Khimia 2023!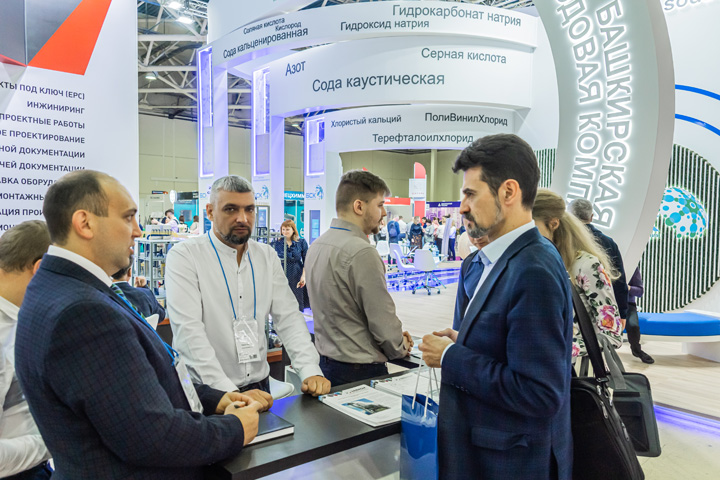 Preparations for Khimia 2023 are now in full swing. We can already say that the show will confidently surpass last year's figures.
By the beginning of June, more than 200 companies from six countries – Belarus, China, India, Iran, Russia and Turkiye – have already confirmed their participation in the show. Foreign exhibitors include Asos Proses Makina (Turkiye), Belneftekhim (Belarus), Lesohimik (Belarus), CCP (Iran), Moon Environment Technology (China), and Unibrom (China).
Khimia 2023 will also feature national pavilions from Belarus, China and Iran. Their line-up is currently taking shape.
Companies from several regions of Russia have confirmed their participation within their regional pavilions. The pavilions of Belgorod, Kaluga, Kirov, Kursk, Leningrad, Nizhny Novgorod, Smolensk and Yaroslavl regions have already been formed.
Russian exhibitors include ICB Rus, IMC Group, Aleko-Polymers, AlhimGrupp, Alliance Energy, AZ-Armaturen Eurasia, Bashkir Soda Company, BD Sensors RUS, Bisnesplast, BMT, VZSP, VSMPO-Avisma, Garant, Glycerine.Ru, ART Group, Dzerzhinsk Caprolactam Chlor, Dipaul, Diam, Donau Lab Moscow, Europe Complect Service, Eurochem, UTS – Chemical Materials, Zavod Rokot, Innoformula, Kazprom, Quarco, Chempartners, Kreator Tekhno, Kricon, KuibyshevAzot, Labconcept, Laboratory Equipment and Instruments, Lider-AV, Leak-Proof, Logosib, Magistral-NN, Machinery Building Company Vselug, Melytec, PKP MITO, MIREA – Russian Technological University, MPP, MHK, NVLAB, Nevatorg, Neohim, Nefthimmash, NIIPAV, Norchem, Oka-Polymer, Okachim, Otex, Pigment, Polyplast, Primechemicalsgroup, Proliv, Reatex, Roshimreactive, Rusredmet, Russian Element, Rushimset, SBK, Simex, Synthes-Acetone 2000, Spektr-Chem, Spetskhimmash, Derzhavin Tambov State University, Tank Container Service, Tecsa, Tranpack, Universal Service, PhosAgro, Chemical Systems, Chemical Plant of Fluoride Salts, Chimmed, Himprom (Perm), Himprom (Novocheboksarsk), Chempack, Holliday Pigments, Shlangenz, Ecroskhim, El-Trans, EMIS, Energolab, UVS, Union Chemical Solutions, and many others.
Don't miss out! Book your stand now!
Khimia will take place from 30 October to 2 November 2023.
---