Pigment products are fully in line with the quality of their imported counterparts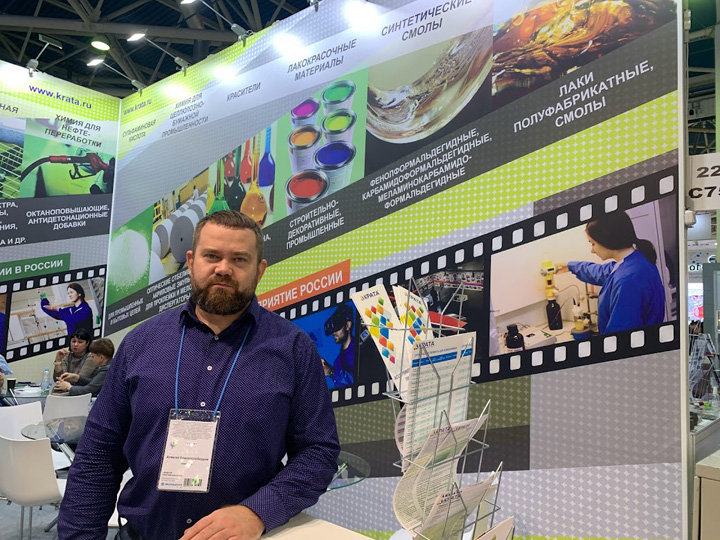 Photo Pigment AO
Russian manufacturer of chemical products Pigment AO known on the market under the Krata trade mark is a permanent exhibitor at Khimia. This year the exhibition visitors were able to become acquainted with the complete range of Pigment products. Alexey Krasnoslobodtsev, Head of the Marketing Department, told about the novelties that the company was presenting at the exhibition.
- This year, our company has been actively implementing an import substitution policy, which we had been pursuing in the previous years as well, but which has become particularly relevant during this period. All products of our company correspond to the quality level of imported analogues of leading world manufacturers, which is especially important in the conditions of the state import substitution programme.
This year we will present acrylic and PVA dispersions, semi-finished varnishes, paints, resins and formalin, construction chemicals, including additives for concrete, cement, construction mixtures, sulphamic acid and products based on it, and a separate place will be taken by chemistry for the pulp and paper industry and oil refining.
We also introduced visitors to new developments in the following product sectors: additives for building materials: redispersible polymer powders Kratasol PP (S-01), additives for briquetting Kratasol BR, defoamer CCC, setting retarders for CCC. In the segment of chemicals for paper industry we offer HASE 01.1 thickener, acrylic emulsion for coating Akratam AS 01.4 and surface sizing Akratam AS 02.4, dispersing agents Kratadisp AM 40 and A45, damp-proof resin Kratarez WET.
- What new products offered by your company aroused the greatest interest among the visitors to the exhibition?
- Krata is well known by visitors to the Khimia exhibition, so those who are interested in high-quality unique products come to our stand purposefully. This year we offer a lot of novelties in the line of redispersible polymer powders for mining and metallurgical plants. There are new products in the acrylic line - acrylic dispersion for waterproofing Akratam AS 01.5, which creates a repellent effect for moisture. We are actively developing our car chemistry business. This year, we have been stimulated by the fact that many Western suppliers have left our market. We are also working on specific customer requests for chemical products, which due to certain circumstances have become scarce, and we are generally looking at the prospects of individual products, because our company has quite a lot of potential for expansion.
Today, our company is the largest manufacturer of a wide range of chemical products, including the only producer of pigments, dyes, sulphamic acid, optical brighteners for the pulp and paper industry and synthetic detergents in Russia and the CIS.
- How do you rate the outcome of Khimia 2022?
- We did well at this exhibition, and all of the planned meetings took place. We always go to any exhibition first of all for negotiations, from this point of view we design our stand as a negotiation platform, where it is comfortable to discuss details of cooperation with old and new customers. We do not try to attract visitors by the stand design, but by the quality of the service and interesting cooperation offers. We were happy to meet our market partners and discuss work prospects. We wish all our colleagues to have a more stable and relaxed next year in terms of implementation of all plans for our industry. And see you at Khimia 2023!
---