Ecord unique dyes for household and car care products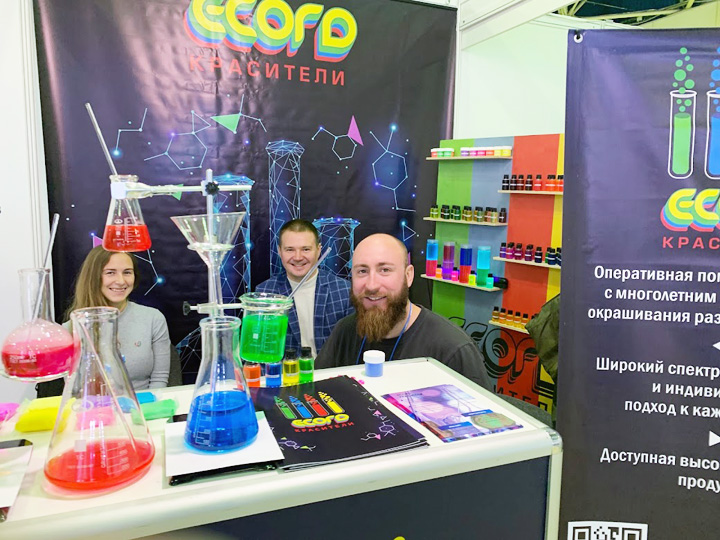 Photo Ecord
The Startup ChemZone is a specialised showcase of projects at the Khimia exhibition, where small innovative companies present promising developments from prototypes to finished products. This year several Moscow and regional companies demonstrated their products and services. Among them was the Ecord Company from the Nizhny Novgorod region, which specialises in the production of dyes for household and car care products for various liquid media.
The company manufactures, selects and sells colourants for process liquids in order to give products an exclusive colour, develop branded and exclusive shades, to increase recognition, to differentiate from competitors. The company also carries out research work on the application of dyes in new industries. Correct application of Ecord dyeing technology eliminates colour variation from batch to batch and allows to reduce the cost of dyeing products.
Alexey Romashechkin, co-owner of the company, noted that Ecord's specialists take an individual approach when working with customers: "Before introducing a dye to production, we offer the customer tests. A sample provided by the customer is tested with several kinds of dyes, this enables to avoid mistakes and to select the optimal dye, appropriate to the given composition of the liquid. We solve all kinds of tasks related to dyeing of products, including non-standard ones.
We came to the exhibition at Startup ChemZone with the aim of gaining new customers. There has been a fairly large flow all three days of the exhibition, and we have had visitors at our stand from various regions, even from Vladivostok. We see our main competitive advantage in the fact that we can offer customers original colours that other suppliers don't have".
---