Vacuum evaporation crystallization unit is presented at the exhibition stand of WiseTech Engineering
02 / 11 / 2022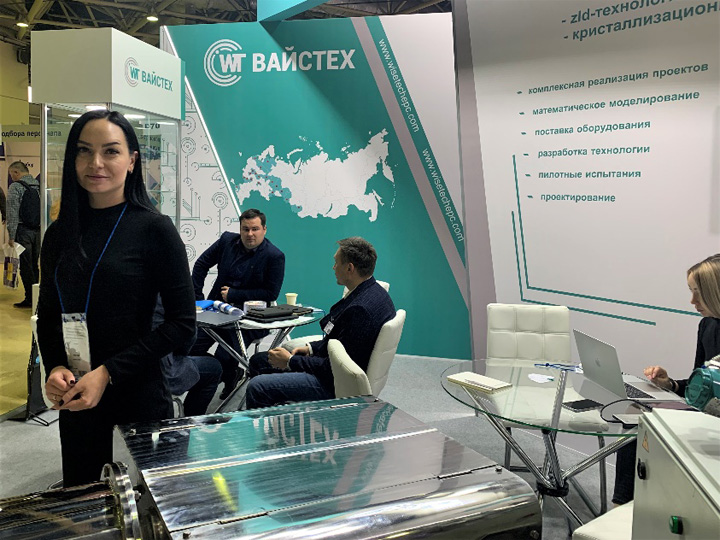 Photo WiseTech Engineering
WiseTech Engineering, which specializes in design and engineering work for the modernization and construction of industrial facilities, annually takes part in the Khimia Exhibition. The Company's clients are such large manufacturers as Sibur, Rosneft, Novatek, and others.
Pavilion 2, Stand 22D70
The WiseTech Engineering Group includes several divisions that deal with industrial engineering, design, equipment selection, as well as warehousing activities.
This year, the Company's stand presents samples of shut-off and control valves: ball valves, valve elements, closures, as well as attachable equipment, including electric and pneumatic actuators. The experts of the Company working at the Exhibition every day answer the visitors' questions in detail and individually advise the visitors at the stand who have provided technical data. In the catalog on the Company's website one can find flowcharts, including descriptions of all the processes.
"During the Exhibition our specialists are making presentations of pilot equipment," said Anna Fouss, Marketing Manager. "It is the vacuum evaporation crystallization unit, with a capacity of up to 10 l/h, which can simulate several stages of evaporation; the two-stage MP-150 model of continuous operation of filter centrifuge with a pulsating discharge of sediment.
We take part in the Khimia Exhibition almost every year, and now we have a lot of scheduled meetings at our stand. Since we are a Russian company and present our own developments and technologies, we have not experienced significant difficulties, our partnership is growing. Moreover, due to the fact that many Western partners have left the Russian market, new prospects have opened up for us.
---