Presentations of KHIMIA-2017 exhibitors
Dear participants and visitors of the exhibition, take into account additional opportunities to get acquainted with offers of Khimia-2017 exhibitors: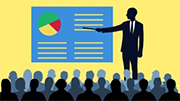 I. Presentation zone
Technical seminars, company presentations and master-classes of exhibitors
The opportunity to have a presentation free of charge in front of the audience of professional visitors is given to Khimia-2017 exhibitors.
Venue: conference hall (exposition zone), pavilion ¹2, hall ¹3;
Facilities: screen, projector, chairs, table. Technical support in the conference hall.
To take part you need to send a request by the 1st of October to samoilova@expocentr.ru including presentation's topic, speaker's name and surname, his/her position.
We will provide you with the variants of time for the presentation.
Time limit – till 30 minutes.
Presentations' schedule
Venue: Expocentre Fairgrounds, pavilion 2, hall 3, conference hall
Time
Company
Topic
Speakerð
October,23 (Monday)
13:30-14:00
DIAM

Sample preparation automation - basis of the qualified spectral and chromatographic analysis

Dmitriy Brittal
14:00-14:30
ANALIT LTD

Clean Working Place for trace spectral analysis

Dr.Ilya Grinshtein – ê.õ.í., CEO ANALIT ltd
14:30-15:00
APIX Analytics

Novel and Miniaturized GC detector for industrial analysis of Gases

Mr. Simon Yann – Sales Manager Europe
October,24 (Tuesday)
11:30-12:00
TOTAL VOSTOK
BioLife: Renewable fluids from biomass Presentation of the novelty-fluid which provides sustainable solutions for many industries, ranging from E&P (drilling), polymers production, inks and lubricants to cosmetic emollients and home care products.
To be announced
12:00-12:30
SIGM PLUS ENGINEERING
Novelty in technology of ultrasonic flowmeter (Bronkhorst)
Aleksandr Petrovskiy - senior engineer
13:00-13:30
GORMASHEXPORT
Integrated solutions of waste water treatment
Ksenia Lyubich – ecologist
13:30-14:00
GORMASHEXPORT
Custom equipment in chemical technology
Artyom Stepanenko – laboratory chief
14:00-14:30
GORMASHEXPORT
Electrothermic coagulation in the processes of waste water treatment
Vyacheslav Gorshkov – technical engineer
14:30-15:00
GAMMA PLAST
New technologies in polymeric compounds development

To be announced
15:00-15:30
GAMMA PLAST
Polymeric additives and colouring agents

To be announced
October, 25 (Wednesday)
10:30-11:00
SULZER PUMPS
Sulzer Pumps for mineral fertilizers production
To be announced
11:00-11:30
BÖRGER GMBH
Pumps, pumping equipment
Representative of Börger in Russia - VODACO, LLC
Andrey Zolotnikov
12:30-13:00
RUSTOKS
Precipitated Calcium Carbonate (PCC): application in chemical industry
To be announced
13:00-13:30
ROTEX
Tumblers ROTEX. Efficient technical decision for revenue increase
To be announced
14:00-14:30
SHIMADZU EUROPA GMBH
A practical approach to use Shimadzu LC-MS/MS for clinical laboratory diagnostic
Eugeniy Panikhin – Consultant on analytical equipment
14:30-15:00
EPC ENGINEERING CONSULTING GMBH

Production of carbossimetilcellulose. Advanced manufacturing technology and  high quality of the product.
Advanced grain processing. Chemical and pharmaceutical products manufacture.

To be announced
15:00-15:30
CRYOTEC ANLAGENBAU GMBH

Engineering and construction of air cryogenic separation installation, O2 and N2 manufacture of a high quality.

Óòî÷íÿåòñÿ
October, 26 (Thursday)
To be announced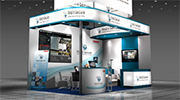 II. Stand presentations
The schedule of companies/products/services presentations at the booths/stands of exhibitors
Dear participant, In order to be posted in the schedule of stand presentations on the KHIMIA website, please, fill in the application.
Visitors of the exhibition will be informed about the schedule of the presentations. It will attract more targeted audience to your booth.
Important information:
Presentation should be held by the employee of the exhibitor;
Time limit – 20 minutes.
Schedule of stand presentations
Venue: Expocentre Fairgrounds, pavilions 2 and 8
Time
Company
Stand/Booth
Topic
October,23  (Monday)
To be announced
October,24  (Tuesday)
12:00-12:20
CHIMMED
81B25
Presentation and an overview of HPLC system Rigol L-3000
12:20-12:40
RUSTOKS
21F82
Precipitated Calcium Carbonate (PCC): application in chemical industry
October, 25  (Wednesday)
To be announced
October, 26  (Thursday)
To be announced
Contact person:
Natalia Samoilova
Phone: +7 (499) 795-39-85
E-mail: samoilova@expocentr.ru